This is my response to XKCD's "Unpopular positive opinion challenge":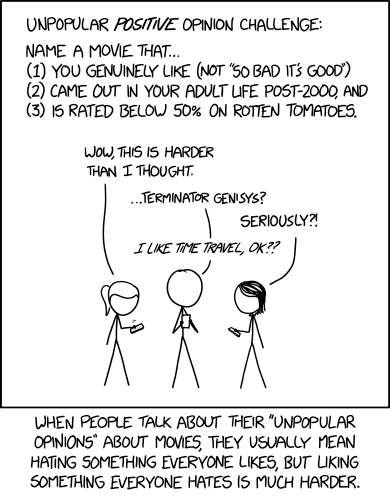 This is interesting, challenge accepted! I'm sure I can come up with one pretty easily…
…but I initially found this a lot more difficult than I expected – hitting that "below 50%" criteria was difficult, particularly combined with the "came out since 2000″ criteria. I came close a few times.
The very first movie I thought of was Cloud Atlas, which I would list in my top 10 movies ever made and have recommended to literally everybody I know, but which apparently nobody saw or liked for some reason I can't comprehend. But it has 66% for both critics and audiences.
My next thought was Bicentennial Man, a movie I really truly love, and the only faithful adaptation of an Asimov (A man I deeply love) story. I've written before about how the fact this got negative reviews reflects poorly on humanity. But it doesn't quite meet XKCD's criteria either, having a 58% audience score and coming out in 1999.
I looked at quite a few movies before I thought of one which would definitely meet the criteria. And as soon as I thought of one, another one came to me.
I came close a few times. I LOVE Hancock. It's got Will Smith and Charlize Theron, and it's a different take on the superhero genre a decare before we started seeing Brightburn or The Boys, But it has a 59% audience score.
I quite liked the Ang Lee / Eric Bana Hulk movie from 2003. It's an interesting early take on how to do a comic book movie, before the cookie cutter had been made, and it does some interesting stuff playing with comic book panels and wipes and whatnot. And I'm a sucker for Eric Banana, aka Poida. Audiences hated it for some reason, but it has 62% with the critics.
Rob Zombie's Halloween remake was really great, I like it much more than I like the original (which I'm not a big fan of). The kid in that movie is terrifying and fantastic. And like most Rob Zombie films the casting is great too, particularly Malcolm McDowell and Brad Dourif. But the real standout is the kid – Daeg Faerch (who I've just learned was also the bully in Hancock!). This is one of the best pieces of child acting I've ever seen. It's what makes the movie great as far as I'm concerned. But apparently only 59% of audiences would agree with me. Close but no cigar.
OK, what about another Rob Zombie movie I adore – House of 1000 corpses? Or perhaps the sequel? 65% and 78% with audiences. The second one even has a critic score over 50%.
Hmmm. Riddick? The third one? Everybody hated that. We're pushing it now because I wouldn't say I loved it, but it wasn't bad. But nope, 57%/56%.
And then it hit me.
There's one movie that I really really love that everybody – EVERYBODY – hates.
A movie that came out in 2007.
A movie with a whopping 11% critic score on Rotten Tomatoes and an audience score of 30%.One of the reviews listed on Rotten Tomatoes says "In a word, repugnant."
And I LOVE it. It's fucking magnificent.
Alien vs Predator: Requiem is everything the first Alien vs Predator Movie wasn't. It's exciting, interesting, over-the-top gory and action-packed, and perhaps most of all it plays with the conventions of a movie like this and subverted my expectations in a wonderful way on a couple of occasions. But the real reason I love it is the same reason that everybody else hates it.
If you haven't seen it, spoilers.
As far as I'm concerned, in a movie with "Alien vs Predator" in the title, the humans are fodder. I don't want an interesting story where I want the humans to get out alive. I don't want relatable characters who aren't predators. I just want to watch Aliens and Predators kill each other, and hopefully a whole bunch of puny humans will get caught in the crossfire. If you can weave an interesting and compelling story around that, that's a bonus. Or, you could just not have any humans and have a 2-hour, dialogue-less, action-packed extravaganza, but nobody would ever make that movie.
Ideally instead of making the two Alien vs Predator movies they made, they would have just filmed the excellent script written by Peter Briggs in the 90s. But for some reason that didn't get filmed (I suspect probably budget, it would have been super expensive in the 90s or early 2000s), and we ended up with what we got.
So in an ideal world, there might be one or two human characters who work with the predators. This is the one thing that seems to have been carried over fromm the Peter Briggs script into the actual film. Except that they did it poorly and made the human weak and dependant on the predator. In Briggs' script the human warrior chick is a total badass and stands on pretty-much equal ground with the predator. I'm pretty sure she even saves it's life a couple of times (it's been 20 years since I read that script so my memory is a bit hazy). At the end of the movie she goes off to live with the predators.
A bit of background: I was very much into the idea of AvP before the movies happened. I had read the Briggs script but none of the comics. I loved the arcade beat-em-up game where you can play as a human or a predator. I knew a bit of the lore around it (e.g I knew about the fact that the xenomorph takes on characteristics of its host, hence the 4-legged 'dog' alien in Alien 3, and I therefore knew about Predaliens. The Briggs script features six-legged Aliens because it's set on an alien planet with six-legged wildlife). James Cameron has said that making an AvP movie de-legitimises the franchises – he had been talking/thinking about doing an alien 5 but dropped the idea because he heard they were going ahead with AvP. I see his point, but the way I see it it's like Godzilla vs King Kong – it's just awesome, silly, spectacular fun. It doesn't take anything away from the other franchises, and it can either live separately from both or it can meld the two canons together wonderfully. But most of all it should be schlocky, violence-packed action. If you can also make a thoughtful sci-fi film (like Briggs wrote) then so much the better, but that's optional. The important thing is action and violence. In summary, I was very very eager for the first AvP film, and I was pretty disappointed.
I don't hate the first AvP, but it's mediocre at best. It pointlessly mangles the canon of both franchises by trying to throw in needless and meaningless references and "fanservice", and it gives us a boring story and characters that I don't care about. At all. Perhaps the ur-example here is that Lance Henrikssen is in the film. Now don't get me wrong – I love Lance Henrikssen – but he has no place in this movie. He's Bishop, and he's the guy who designed Bishop, a couple of hundred years in the future. He's not "Charles Bishop Weyland". That's just stupid bullshit that is trying to be fanservice but fails because it's nonsensical. I can appreciate what they were trying to do, but I think the biggest sin the first movie makes is that it's just bland. Followed closely by the huge jumbled mess of canon it creates, and that's followed closely by the lack of Aliens fighting Predators that I came to see in a movie called Alien vs Predator. It's not nearly violent or action-packed enough. At some point somebody said "but it NEEDS to have a story!". So they did their best and wrote this boring mess. AND to top that all off there's no predalien in the movie until the closing scene, when it chest-bursts from the dead predator. That is literally the most exciting thing in the movie – the hook that we might get a sequel with a predalien.
And we sure did. The second movie is. Fucking. Awesome.
I LOVE that the characters are all cardboard cut-out and one-dimensional and not interesting. They're all expendable. Their function is to deliver a bit of exposition here and there, and to die horribly and violently. And the writers knew it. I believe that's what they were going for. The story is almost a parody of what you'd expect the story to be in a movie like this. It doesn't matter whether they can act, as long as they can speak the lines they've been given so that I can understand what they're saying. The most interesting thing about them is what creative and interesting patterns of red they'll make when they go splat.
Take, for example, my favourite moment in the movie. The movie starts with the dorky underdog kid who likes the hot girl who is friendly to him. The hot girl's jock boyfriend is a total dick and bullies the dorky kid. She breaks up with the jock and ends up in this life-or-death Aliens vs Predator situation with the dorky kid.
SO, this being a movie, we're 15 minutes in I know exactly what's going to happen: The dorky kid and the hot girl are the main characters, and they'll be the last survivors, possibly with one or two others. The dorky kid will find strength within himself and will protect the girl and she'll totally fall for him and he'll get the girl in the end. Aaaaw. It's so cliche it makes me want to vomit.
And then she gets suddenly and unceremoniously pinned to a wall by a predator shuriken.
It's fucking awesome. My reaction was instant and ecstatic – "Whoa! I didn't see that coming!". I actually had an audible reaction the first time I saw it. I think I might have even clapped. That's a big achievement, I'm not the type who reacts like that. This is how you subvert expectations! I was instantly more engaged with the movie because now that you've killed her off, anything goes. It's possible that nobody might get out of this alive. The stakes are instantly way higher and now I believe that anybody can die. It turns out that I don't have any idea how this story is going to end – perhaps the aliens will win? Who knows.
And it doesn't disappoint. As somebody who loves a dark movie (I love alien 3 for that reason), I loved the end, where the army actively lures the civilians into the center of town to be bait and then nukes the whole goddamn town. There are a handful of survivors out of who knows how many – thousands? tens of thousands? maybe even a hundred thousand? I don't know how big the town was supposed to be, but this movie has a serious death-toll. It's brilliant and dark and cynical and exactly what would really happen, and I fucking love it. And it has a bunch of cool, R-rated action with a predator hunting aliens and fighting a predalien. What's not to love?
And seconds after I thought of AvP2 as my entry in the unpopular positive opinion challenge, I realised that I actually had two. I mean there are a bunch more, particularly if you loosen the criteria a bit – I adore Tango and Cash, for example – but there is a second entry which is just as great and equally as reviled and which I can't not mention.
Postal.
It's the only Uwe Boll movie I've seen. I know his reputation. I had the movie recommended to me by a friend. I was a big fan of the second postal game, with its very dark sense of humour and its early open-world gameplay, but I don't think I even knew that there was a movie adaptation. And I certainly wouldn't have been interested in seeing it. Particularly if I'd seen "Uwe Boll" in the credits. But a friend told me it was hilarious, describing the opening sequence, and I had to check it out based on that.
And it's fucking hilarious. It's exactly what a postal omvie should be.
And that's about all I can say about it without spoiling it. If you like your humour super dark and politically incorrect, go watch it.
There's so much to love here: The replacement of Gary Coleman with Verne Troyer and the prophecy about a tiny man being raped by a thousand monkeys. The cop wo keeps a homeless disabled guy in his garage at night so that he can wheel him out to beg for money from people during the day, which the cop then takes. The ending, with Osama and Dubya skipping off into the sunset hand-in-hand while mushroom clouds form.
But I particularly adore the entire sequence at "Little Germany", with Vince Desi (helpfully subtitled as the game's producer) fighting Uwe Boll, Uwe Boll admitting that he finances his films with Nazi Gold, and last but certainly not least, the gleeful focusing on a whole bunch of innocent children being accidentally shot in the crossfire. I laughed out loud. A LOT. For a good while.
There's not much to this movie, really, and I don't have a huge amount to say about it: It's a stupid, over-the-top subversive comedy filled with humour as black as Saggitarius A*. And that's why I love it. Even if nobody else does.
Both of these movies are silly. Both of them are hugely entertaining and exactly what they should be. Both of them are reviled. And i love them both dearly.