Neil Armstrong has died.
It's taken me a bit by suprise how emotional I am about it.
There's so much to say, and yet so little.
The internet has been going crazy honouring him for a day or so now – as it should. Journalists and writers will do a much better job than I ever could at prattling on about what a loss this is and what a great man he was. Go to teh googles and do some searches and read about him, like you should.
I really only have a couple of things to say about it:
"Aw, Shit".
"He will be remembered for all time".
"Aw, Shit".
Buzz Aldrin pointed out that he was looking forward to Neil being there for the 50th anniversay of the moon landing in 2019.
I think for me the biggest dissappointment is that Neil will never meet the next Neil Armstrong – the first man on Mars. That Neil never got to see humans exploring the solar system, he never got to see the real fruits of his accomplishment which I believe will inevitably come. I would have loved to hear what Neil would have had to say about man landing on Mars, or an orbiting hotel, or a moonbase.
"He will be remembered for all time"
He was one of those guys. I read the term "humble hero" somewhere, and it's apt. He didn't like publicity, he wanted to live a private, normal life. Kinda difficult when you're the first man to walk on the moon. He was always deflecting the accolades onto the team, saying (I paraphrase):
"I just flew the thing – there's half a million people who built the thing – congratulate them".
I highly recommend "Being Neil Armstrong", a very good BBC documentary about Neil which talks about how he didn't like being in the spotlight.
There's the "Futurama scenario", where humanity forgets who first landed on the moon, but I think that it's unlikely. Possible, but unlikely. I think we'll remember Neil for as long as there is a humanity.
I was sitting at work today and another Armstrong thing came up on my news feeds and I got a bit bummed out. And I looked up and saw my James T Kirk Motivational Poster, and I had an idea – something appropriate and light-hearted. So I put it together tonight, here 'tis. I think it's the kind of thing Neil would probably say…


(Note: I don't know who to attribute this image to. It's not mine.)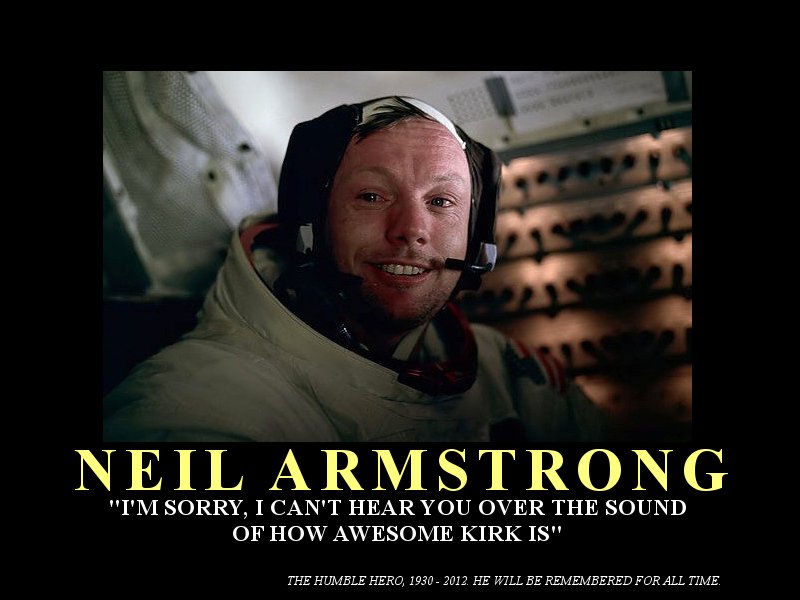 RIP.